We are located in Woodham Ferrers in Essex, Wiveliscombe in Somerset and Kirkcaldy in Fife. Combined we have over 26000sq feet of workspace, where we operate a range of precision saw grinding and manufacturing machines.
EPS is one of the leading manufacturers of bandsaw blades in the UK. With over 35 years of experience, we are able to handle the sharpening needs for many different cutting tools and cutting applications. We manufacture and service bandsaws blades for the timber processing industry. We also supply, sharpen and re-tip TCT circular saws. In addition we supply and sharpen HSS and Carbide Planer Knives and supply a large range of Woodworking Tooling for our customers.
We operate an online store where we can supply Metal Cutting Bandsaw Blades, Wood Cutting Bandsaw Blades, HSS Saws, TCT Circular Blades, Planer Knives, and Wide Bandsaw Blades. For most products we can deliver throughout mainland UK within 24 hours.
We can also supply HSS and Carbide Serrated Cutters which we can cut to size and profile to the customers requirements. We also stock HSS and Carbide Planing Knives. Along with this we also supply and sharpen HSS Circular saws for the metal cutting industry. To support the print industry we can supply and sharpen HSS and TCT guillotine knives and cutting sticks.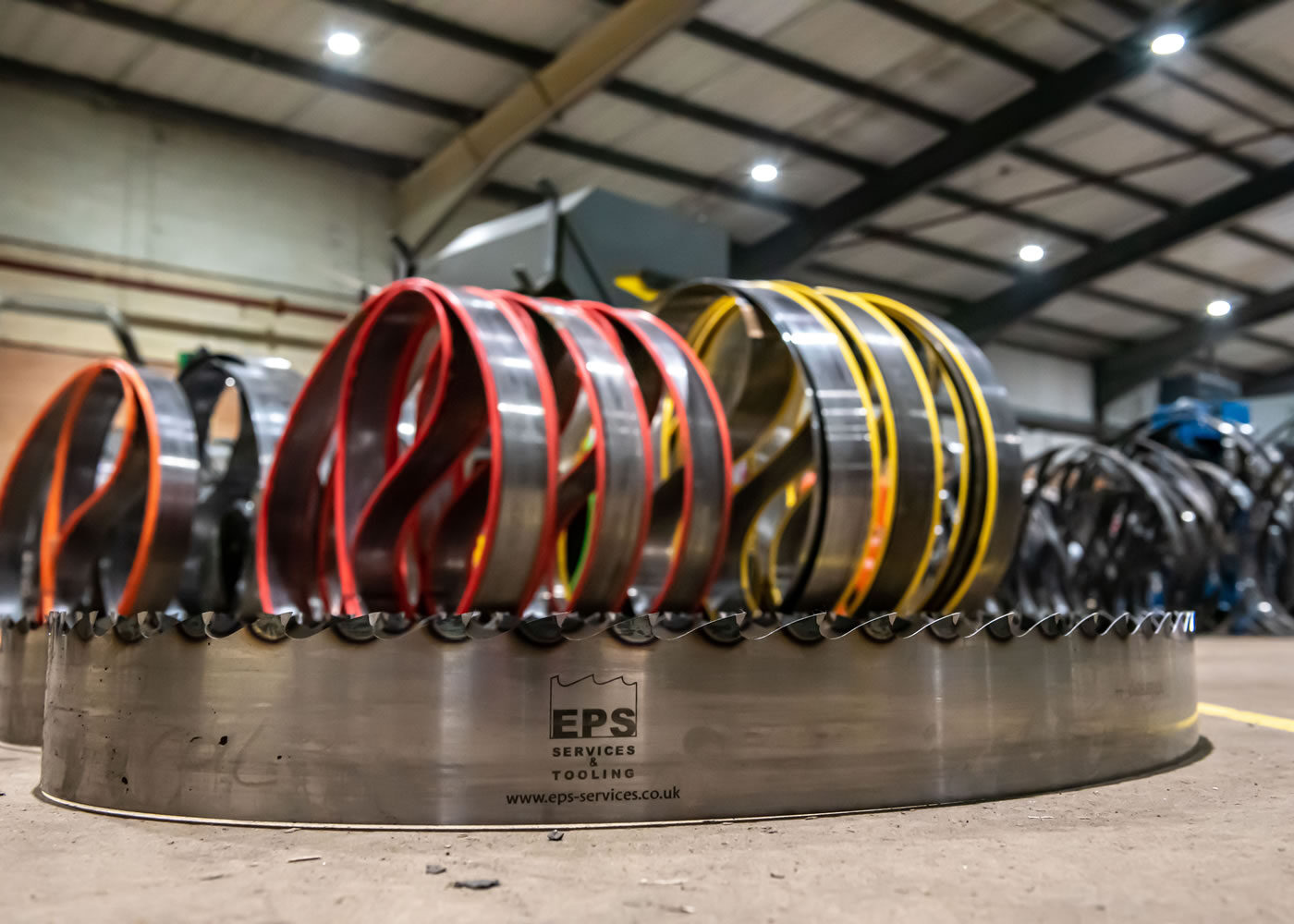 leading manufacturers of bandsaw blades in the UK
We operate our own weekly delivery and collection service throughout  the South West, Sussex ,Kent ,The west and east midlands, Lincolnshire and South Wales from our base in Wiveliscombe and throughout Scotland from our base in Kirkcaldy. See our delivery routes page for more information.
We can provide a full disposal service, in line with environmental guidelines, for any blades. This is free of charge if we have supplied the original blade. Although our prime market is the UK our reputation for excellent service has travelled the world and we currently have customers in Europe, Africa and North America.
Wood band saw steel is characterised by high fatigue strength, good elasticity and excellent benchabillity, allowing for the production of high-quality blades with long run-times.
EPS recommend the use of Bohler Uddeholm's new range of bandsaw steel called BOHLERSTRIP. Manufactured as premium quality wood band saw steel, in terms of both technical precision and chemical structure, the new range of BOHLERSTRIP coil is available from EPS Services & Tooling for all our customers.
Click to Download Our Bohlerstrip Brochure (PDF 1.09MB);
BOHLERSTRIP is available as BS44 (equivalent to tensile strength 1450 N /mm2) and BS49 (equivalent to tensile strength 1670 N/mm2) offering the proven performance and quality you would expect from Bohler Uddeholm. Additional Nickel content is added, to improve durability in all wide bandsaw coils which are 1.2mm or thicker.