EPS Services & Tooling Ltd have been manufacturing bandsaw blades in Somerset for over 35 years and today are supplying & servicing blades to some of the busiest sawmills in the UK. EPS also supply blades to North America and Europe. Across our 3 EPS sites in the UK, and with over 100 years of collective expertise, we pride ourselves on having the best trained technicians in the industry, armed with the knowledge and technology required to handle the sharpening needs of many different cutting tools and sawing applications. While we manufacture and service wide bandsaw blades primarily for the timber processing industry, our expertise means we also understand circular saws and narrow bandsaws along with a whole range of timber processing tooling, offering a supply, sharpen and re-tip service.
Working from our dedicated service centres, Wiveliscombe in Somerset, Kirkaldy in Fife and Chelmsford in Essex we have over 32,000sq feet of productive workspace. Whether it's a small joinery or a large scale timber mill, EPS are perfectly suited to deal with your unique cutting and sharpening requirements.
Planer knives have been an integral part of timber processing for centuries, with a large range of modern processes and machinery now available EPS carry a large stock of HSS and TCT knives and have a dedicated sales team on hand to advise on the correct tooling for your cutting application. Most products are available from stock with next day delivery and collection options available.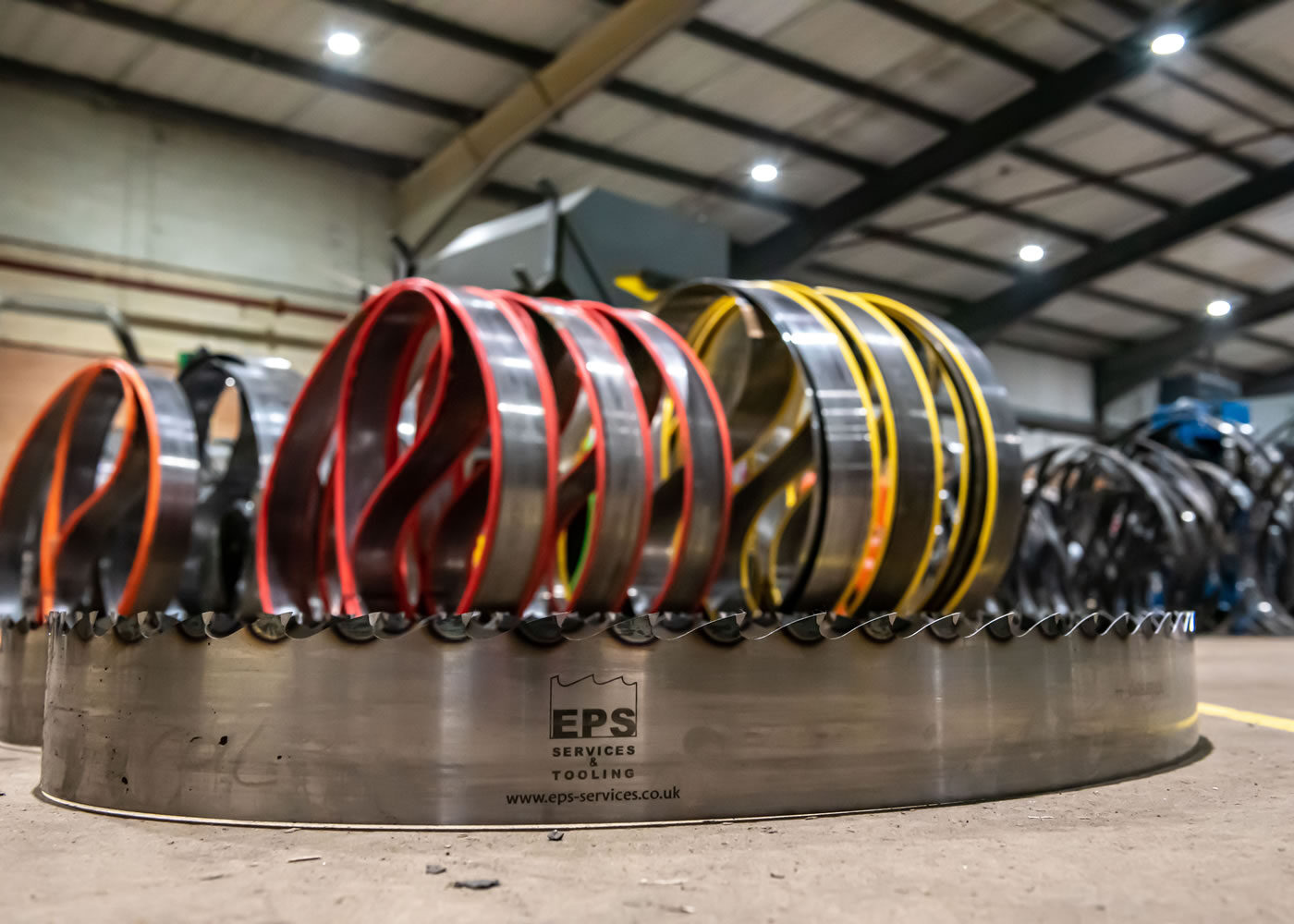 leading manufacturers of bandsaw blades in the UK
From each of our service centres, we offer a weekly delivery and collection service, covering most of mainland Britain, in our own fleet of vehicles and drivers, ensuring that you have a friendly, knowledgeable face to deal with every time you need our services.
EPS are leading the way in reducing emissions in the industry, setting targets for achieving Net Zero by 2050. In line with this standard we offer a full disposal service for your tooling at the end of it's life . This service is free of charge.
A quality bandsaw blade must be consistent, have a high resistance to fatigue and good elasticity. Using a quality steel is vital for the production and maintenance of blades with increased timber processing and run times. After much testing, we recommend the use of Bohler Uddeholm's latest range of bandsaw steel called BOHLERSTRIP. Specifically developed and manufactured for premium bandsaw blades, BOHLERSTRIP is available in a range of sizes and specifications for your needs.
BOHLERSTRIP is available as BS44 (equivalent to tensile strength 1450 N /mm2) and BS49 (equivalent to tensile strength 1670 N/mm2) offering the proven performance and quality you would expect from Bohler Uddeholm. Additional Nickel content is added, to improve durability in all wide bandsaw coils which are 1.2mm or thicker. To read more about the technical aspects of BOHLERSTRIP, download the Bohlerstrip Brochure here.